Timber Frame Installation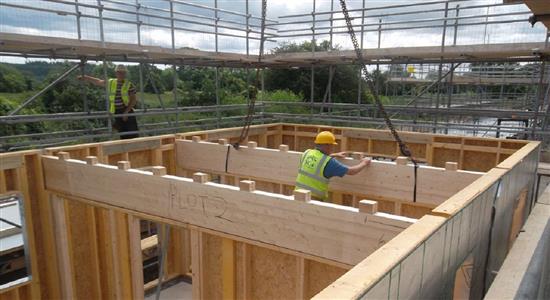 SC4 Carpenters Ltd provides a high quality installation service for your timber frame products and construction.
With many years of experience in providing, fast, efficient and high quality carpentry construction services for housing associations, educational establishments, care homes and private developments, SC4 has the construction knowledge necessary to assist developers in meeting the rising demand for timber frame across the south coast.

SC4 Carpenters Ltd has been erecting timber frame kits on time and in budget across the south of England for more than 15 years, ensuring we are up-to-date with the latest technical advances and sustainability requirements.

Maximising Thermal Performance: Insulation ensuring good U-values while maximising floor area

Minimising Thermal (Cold) Bridging: Caused by a

break in the continuity of the insulation.



Minimising Thermal Bypass: Reducing movement of unheated air within cavity party walls, roof spaces, underfloor walls.

Maximising Airtightness (reducing air leakage): Timber frame, unlike masonry, can minimise air leakage through use of floor band vapour control membrane
Rapid Construction: The Timberframe is quickly erected and water-tight including roof, enabling internal and external trades to work in parallel.
Qualified, experienced erectors add value to timberframe manufacturer's products
As a member of the Structural Timber Association (STA), SC4 Carpenters Ltd benefits from excellent technical knowledge ensuring that your timber frame products are installed to the highest standard and that designed levels of air tightness, insulation, u values, etc. are achieved.

SC4's qualified and experienced workforce includes:
CPCS Appointed Person (AP) Crane operations
CPCS Crane Supervisors
CPCS Slinger Signallers
NVQ Timber Frame Erectors
NVQ Carpenters and Joiners
SMSTS Managers and SSSTS Supervisors
CSCS Health and Safety Qualified Operatives
Our Timber Frame Projects
SC4 Carpenters Ltd is a leading timber frame installer in Hampshire and surrounding regions, erecting structures for 100s of new buildings each year including houses, apartments, care homes and other multi-storey buildings.
We have been installing timber frame for over 15 years during which time we have gained extensive experience and know how, ensuring structures are installed safely and efficiently, to programme and meeting high levels of structural integrity air tightness and fire safety requirements.
➤ Click here to view some of our recent Timber Frame Projects
SC4 Carpenters Ltd's other services for its Timber Frame clients
SC4 has over 21 years of experience offering the following services on developments from 1 to 200+ units :

All aspects of Site Carpentry including fitting of Hand cut and Trussed Roofs, Joists, First and Second Fix, Cladding, etc
Turnkey and project management
To discuss your timber frame installation requirements please fill out the form below!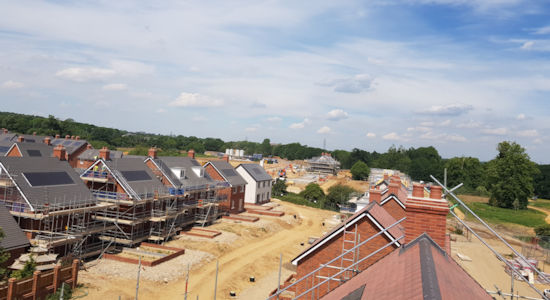 In 15 months from March 2018 to August 2019, SC4 Carpenters Ltd erected 250+ timber frame houses and flats for timberframe manufacturer, Taylor Lane at Phases 1, 4 and 6 of this Highwood site in North Stoneham Park, Eastleigh. A further 100+ homes on Phases 4 and 7 were erected by SC4 in Autumn 2019-Spring 2020 and in Spring 21, SC4 started installation of a further 186 units.
SC4 named first winners of Taylor Lane Timber Frame's Subcontractor Award
SC4 excelled in their approach to health & safety, whilst efficiently managing materials and works on site.
In March 2022, we were proud to be the first winners of the Taylor Lane Timber Frame Ltd SUBCONTRACTOR AWARD SCHEME... 🏆
In announcing their award Taylor Lane Timber Frame said:
Maintaining the highest of standards when it comes to health & safety is high on the agenda for Taylor Lane Timber Frame Ltd
We know it is important to our subcontractors too and so we have developed an award scheme that will celebrate their hard work in this area.
Several key criteria are used as the basis for this award, which will be awarded and presented bi-monthly by our Contracts department to a team that has gone above and beyond that which is expected of them.
SC4 Carpenters Ltd are the first recipients of this award, having excelled in their approach to health & safety on site already, whilst still continually striving to find ways of improving in any way possible. In particular, they have played a proactive part in effective planning, with their efficient management of materials and works on site.
Taylor Lane Timber Frame Limited and SC4 Carpenters Ltd have proved a formidable team on a number of projects since 2017. In particular, Stoneham Park for Highwood Group where 5 build phases have been completed, with a 6th underway and a 7th due to start towards the end of this year. To date, Taylor Lane has delivered over 500 units for Highwood Group, with the help of SC4.
The team were awarded a certificate, before being treated to a full English breakfast as a thank you for their continued efforts! "