Turnkey Construction Services

SC4 Carpenters Ltd - the experienced timber frame team
From design to build, SC4 Carpenters Ltd provides a highly experienced and well-trained team that has many years of experience in the construction industry, ensuring that your build goes smoothly and that you will be delighted with the end result!
Based on many years of experience in the construction industry across the South of England, the SC4 team is able to offer a tailored service to suit your self-build or independent development, from foundation to handover of keys (an "all-in" bespoke package including electrics, plumbing, etc.), specialising in timber frame construction.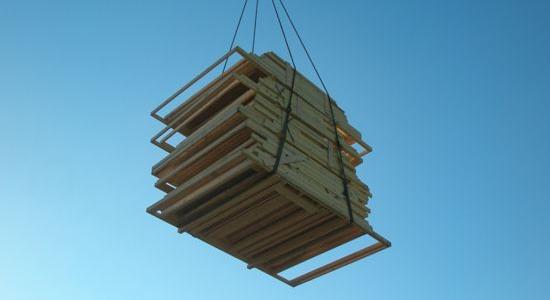 High Speed Construction
A complete solution for your new build timber frame, for self builders to developers

See our turnkey design & build projects page for details of some of our recent turnkey projects.
SC4 Carpenters Ltd understands that the key to any successful and efficient build is getting the structure water tight as soon as possible.
Timber frame construction is typically at least 30% quicker than traditional builds.
Brick work is removed from the critical path of construction to enable work to start internally much sooner than for traditional builds.
The timber frame structure for an average 2/3 bedroom house can be erected in as little as one day and be watertight within 6-10.
Timber frame erection is less weather dependent than masonry, making project planning more predictable.
Timber frame structures enjoy a reduced drying out time.
Good Design combined with High Quality Installation ensures Sustainable, Fast and Efficient Build Process

SC4 Carpenters Ltd's construction company has successfully completed hundreds of timber frame units across the South of England.
Whether you are a main contractor, developer or self-builder, SC4 Carpenters Ltd applies its same high standards all projects, large or small.
SC4 is a member of the STA (Structural Timber Association).
SC4's qualified and experienced workforce includes:
CPCS Appointed Person (AP) Crane operations
CPCS Crane Supervisors

CPCS Slinger Signalers
SMSTS Managers
SSSTS Supervisors

NVQ qualified tradesmen


For faster service from start to finish contact SC4 Carpenters today! To discuss your Timber Frame design and build requirements or request a free quotation, please complete the form below!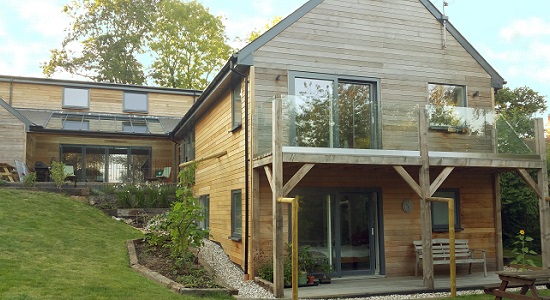 This luxurious, energy efficient, 5 bed home was designed and built by SC4 Carpenters Ltd in an area of outstanding natural beauty of West Berkshire to accommodate 4 generations. It replaced a 1930s timber house to gain the benefit of modern conveniences for the 21st century.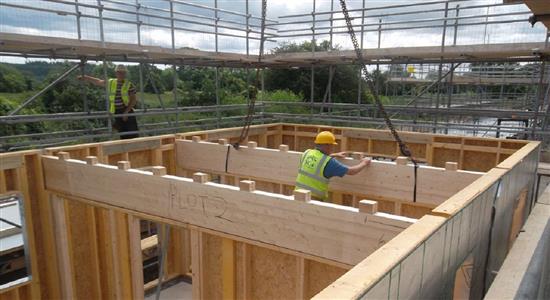 SC4 Carpenters Ltd provides a high quality installation-only or supply and fit service. As a member of the Structural Timber Association, SC4 Carpenters Ltd benefits from excellent technical knowledge ensuring that your timber frame products are installed to the highest standard and that designed levels of air tightness, insulation, u values, etc. are achieved.
For further information, quotation or tender, complete our online enquiry form.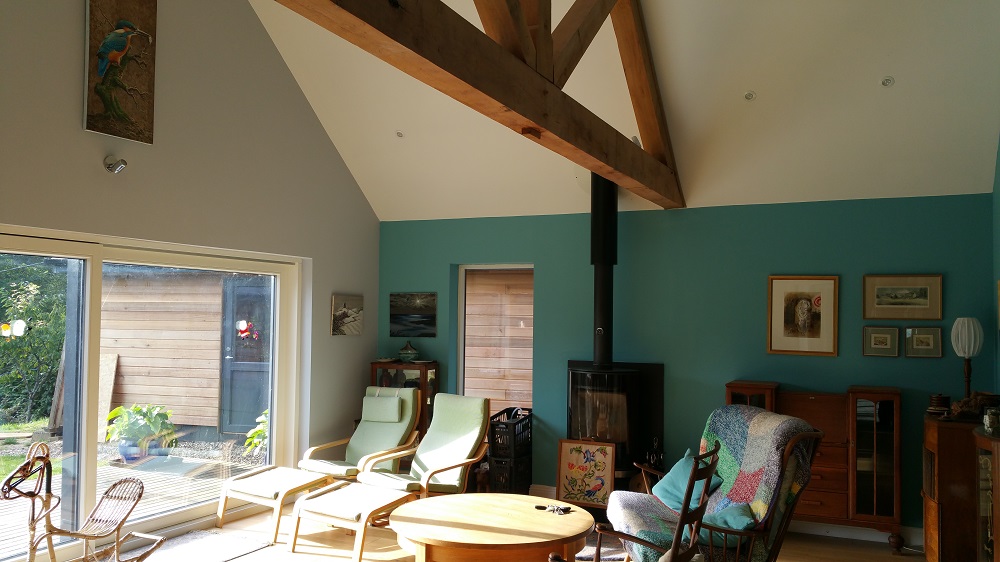 Jim & Yvonne's New 5 Bed Home in West Berkshire
Rapid progress of design and build enabled us to move into our wonderful new home within 10 months.
July 2015
Winchcombe Cottage

After 40 years happily living in Winchcombe Cottage we realised the time had come for an upgrade.
After reviewing options we concluded that rebuilding was better than attempting repair. Used to living in a wooden house we were keen to accept a replacement based on modern, energy efficient, timber frame construction, such as that offered by SC4 Carpenters Ltd, who designed, project managed and built the house from ICF and timber frame.

SC4 dealt with the design, planning consent and construction, carrying out timberframe erect, carpentry, roof tiling, kitchen and window fitting, as well as project managing demolition, ground works, mechanical and electrical, including photovoltaics and a pellet-based biomass boiler feeding under floor heating.
In spite of adverse winter weather that delayed completion of the groundworks, once started, the main timber frame structure was delivered and erected in just one day, and was waterproof within a matter of weeks, enabling rapid progress to be made on the interior.
We were able to move back in within 10 months of the demolition of the old house. Designed to fit the original footprint and keeping the main features, including basement and attic, we felt at home at once and continue to appreciate all the energy saving benefits.